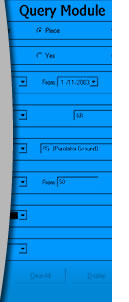 In today's distribution environment, information is power. Data is the enabler, which converted to relevant information allows you to make proper decisions in the shipping environment, improving your bottom line. CanLogix's Query Module is a software tool, providing a user with an infinite number of query options against the shipping database for data analysis. It creates a consolidated data set based upon user defined field criteria, which is easily exported into desktop applications such as Microsoft Excel or Access. The Query Module provides a complete view into your shipping data by any authorized employee.
Features:

•

Multi User query capabilities.

•

Capability of selecting up to 8 different variables to perform the consolidated data query.

•

As each variable constraint is entered, the query application collects transactions matching the accumulated logic.

•

Query Module enables an operator to get hundreds of custom data result combinations.

•

Variables can be ignored in the query for display and export purposes if required.
Results:

•

Result data is exported to an ASCII file (comma delimited) or displayed to the screen.

•

The operator can select from a list of all available shipping data fields the result-set format desired.

•

Each result-set format can be saved for future usage.
Typical uses within your organization:
•

Accounts Payable

(Carrier/service by date range to validate incoming invoices)

•

Sales

(Cost of shipping by customer by date range)

•

Freight Negotiations

( All freight characteristics for negotiations can be easily determined)

•

Customer Service

(By order number)
For more information on CanLogix's Query Module solution, please contact us.