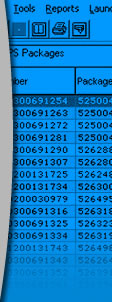 Front Office from Kewill Solutions North America gives you a customized view of your shipments from your dock into your customer's hands.
In today's economy, customers expect the right answers, instantly. They want to know where their orders are and when and how they will arrive. The ability to quickly and easily provide customers with this valuable information is critical to any organization looking to streamline operations, improve customer service and improve their bottom line. Kewill Solutions North America Front Office is the ultimate proactive shipment tracking application available. When combined with shipping, Front Office provides you a customized view of shipments from your dock into your customer's hands. It's all about proactive shipment tracking, post-shipment data processing and other ways to enhance customer service while reducing your company's costs.
Front Office puts you in control of the data you're managing. Use Front Office to track packages in transit, identify late or lost packages and send email updates or delivery notifications to your clients. Front Office enables you to view, search, track, email, report on your data and communicate status information to your host system or Web site.

General Features:
| | |
| --- | --- |
| • | Automatic carton tracking |
| • | Proactive email notification upon shipment and delivery of packages |
| • | Merge and Export Shipping data to host system or website |
| • | Customizable user interface |
| • | Track packages via the web for UPS, FedEx Ground, FedEx Express, USPS, Purolator, DHL (Loomis), Canada Post and Canpar. |
| • | User-configurable launch menu provides quick access to your favorite programs or web sites |
| • | Determine late or lost packages – for ground and air shipment refunds |
| • | Delivery detail, Delivery Summary by service level, and late package detail reports built in |
| • | Export Reports to a variety of sources – Word, Excel, HTML, ASCII |
Sample Front Office Screen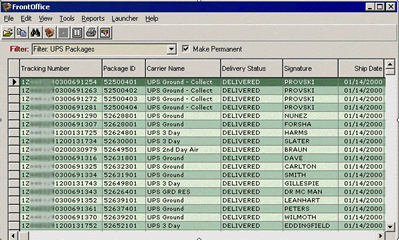 For more information on CanLogix's Front Office solutions, please contact us.