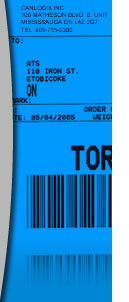 The CanLogix Andlauer Transportation Services (ATS) compliant module comes standard with fully compliant rating, labeling, manifesting and end of day communications with ATS. With the CanLogix ATS module you can feel confident that all aspects of your ATS transactions are processed accurately with the latest compliance. The module comes standard with the following:
| | |
| --- | --- |
| • | Domestic rating structures for air, ground, express, and deferred shipments. |
| • | Processing capabilities for prepaid, collect and 3rd party billing. |
| • | Accessorial air service options are available including declared value (insurance), 9AM, 10AM, noon, 3PM, and 2nd day air. |
| • | Generation of ATS compliant bar-coded address label. |
| • | The module automatically calculates and assigns tracking numbers for each carton processed. Cartons are easily tracked within the ATS network. |
| • | End of day consolidation and manifesting compliance within ATS |
| • | Supports multiple closings (pickups) for ATS in a given day. |
| • | The Andlauer module automatically uploads all manifesting information to the ATS mainframe at the end of each day via FTP communications. |
Labels
The CanLogix ATS module generates compliant labels for enabling accurate carton and shipment identification, internal ATS routing, tracing, and special instructions.
Manifesting
The CanLogix ATS module generates all the required hard copy documentation for your operation. Multiple pick-up manifesting capabilities are a standard offering by CanLogix.
Communication
The CanLogix ATS module communicates via file transfer protocol (FTP) all daily manifested transactions. This facilitates accurate billing, accurate internal ATS routing and on-line tracking of your transactions.